So much celebration the past 30 days… Birth of a new son…
Christmas… new years and now our 4 yr. anniversary!
Hard to believe just four short years ago Travis and I were just starting out :-) now we have two children and live in a completely different state that we both grew up in!
Love you Love!
I put together a small collage of some of my fav. photos with Travis…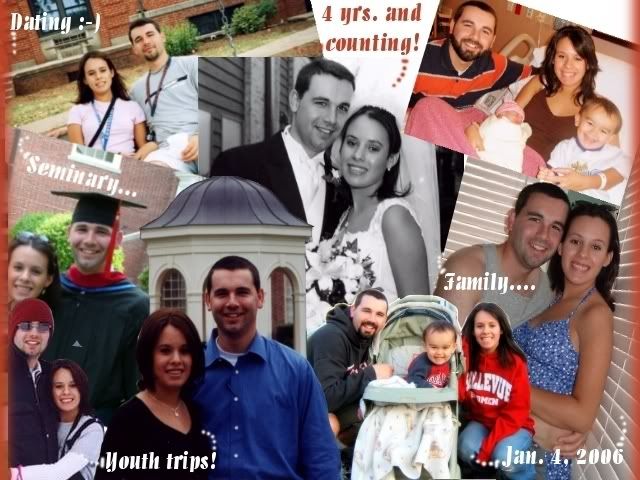 *click image for fullsize view*
We may have a date night tonight… not sure yet. Sort of hard to go out right now with a newborn :-) and a two year old. Especially when most of our baby sitters consist of high school students… their in school again so we cant keep anyone out to late.
Updated:
Well we did infact have a date tonight :-) Travis found a baby sitter for Caleb. So we went out to Olive Garden for a nice dinner. Taite went with us of course… but anyone who has a good newborn knows its easy to enjoy a meal out with one beside you :-) they either sit there and sleep, eat or gaze at the lights haha. Taite spent the entire meal trying to poop and looking at the dim lighting. He wasnt a bit of trouble.
The meal was fab!
We actually ordered an appetizer. We tried the Calamari and Toasted Meat Ravioli. Now if anyone knows me really well.. they will know that I am not the type of person to try new foods… but tonight I did. I tried CALAMARI. Who knew I'd ever try squid… but to be honest it was pretty good! I actually liked it. The Toasted Ravioli was good as well.
For my main course I had a new Olive Garden Tuscan Garlic Chicken Pasta. It was SOOO yummy. For dessert (we never get dessert! so this was a real treat)… we split the "Torta de Chocolate"… it was SOOO RICH. A must get if you go to Olive Garden. The strawberries were even great (sometimes if you get strawberries during the off season they are a bit tart… but these were nice and ripe).
Heres a photo of the dessert we ate –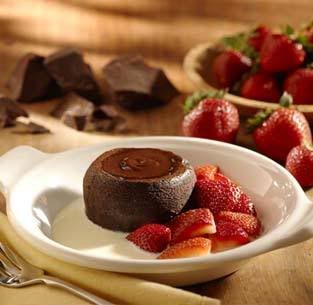 I felt the calories packing on as I ate this… but boy was it worth it :-D
Okay so not only did I have a nice date night out with my hubby… but when I got home and checked my email (after putting Caleb to bed of course) I saw an email from a contest I had entered… and to my surprise I WON!!
I entered to win this $95.00 JP Lizzy designer diaper bag tote… I never thought Id win it. I have never really won any sort of contest in my life… so this was a nice surprise. I am so excited to get it in the mail!
Heres a photo of it –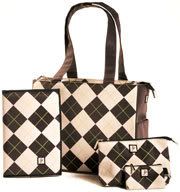 This is a link to the site I won it from "Crazy hip blog mamas" (the site rocks – if your a mom, if your not a mom you probably wont enjoy this site haha). And also CLICK HERE to view my entry for the bag.
Heres a photo from tonight –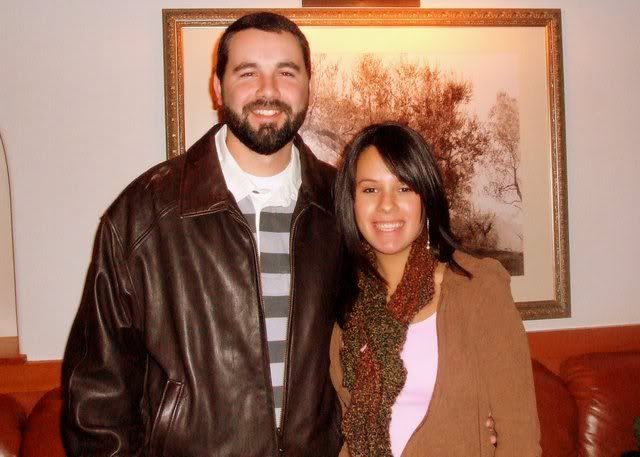 *click image for larger view* – Travis and I at dinner tonight
Oh and I must end this post with a story I heard tonight…
A TRUE story.
This lady was fixing to go to the obgyn (gynocologist) to those who dont know. She was in a hurry to make it to her apt.. but really wanted to wash up before she went. So she gives herself a quick cleaning with a towel that was sitting on her bathroom sink. She goes to her Dr's apt… he does his thing… and while down there looks up at her and says " Well arent we special…" and continues with the examination.
The lady was puzzled as to what he meant but didnt think much of it. Later that day her daughter came to her and said "Mom where is that towel that was sitting on the bathroom counter? I was saving some glitter that was rapped up in it for later…"
HAH!
okay… well I thought it was funny :-)