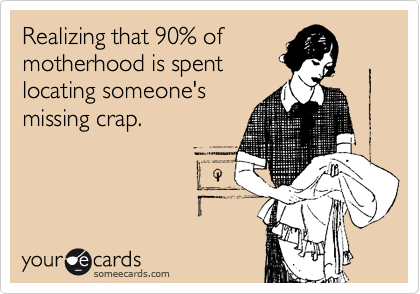 I saw the card to the right recently online and It rang such truth. I don't know about other moms out there with little ones, but I constantly feel like this is what I do. I recently made up some new chore charts for the boys. Ones that seemed simple, to the point and functional. I made them in photoshop using some minecraft graphics for the boys. They turned out cute and so far they are working great! We keep them on our fridge. Beside them is a magnetic dry erase marker (from dollar tree). Each day they mark off what they do. I also have a chore list full of chores for them to do each day. That chore list is color coded. So each child has a few chores a day. Since I can't color code a chart for everyone, I thought Id list chores we do in our home… and you all could color code and organize your list of chores to best fit your family.
I made up a "blank" check list you are welcome to use though. One is "boy" geared with some minecraft farm animals and the other one is a little more girly. Its nothing fancy but since I already had it made up, I figured I would take my kids names off them and let others use it as well.
Also for "school work" – if you don't home school, you could just erase that off. I don't include all of our school work on this chart either. Just the things the boys are in charge of starting on their own. The youngest of our school aged boys can't do his school by himself yet… besides his writing lessons. So, I do have to do that with him. Still, with time, he will eventually get to the point he can do some by himself and so I left it as is for him as well.
To make these "dry erase" friendly. All you have to do is laminate them. I have THIS laminator. I got it off amazon years ago. I love it. You can also buy the bulk sheets to use with it on amazon too.
Hope it helps :)
[click images to download the file. These should be printed as a 5×7 but if you want them as 8×10 that works too, just be prepared for them to be some what pixelated. List of chores is located below…]
Chores for my older boys (ages 8+)
– Empty Dishwasher
– Load Dishwasher
– Wash Dishes by hand
– Do laundry, this includes loading the laundry and drying it.
(we have divided hampers for each boy. So it makes the loads smaller and easier to keep organized)
– Fold the laundry
– Put clothes away once folded
– Sweep kitchen (this is an all day chore, after each meal)
– Clean off Kitchen table
– Clean counter tops
– Take out trash
– Clean bathroom toilet and sink area
– Pick up bedroom
– Make Bed
– Help little brother pick up toys
– Help little brother put away his clothes (Reed is only 3, so he can't do this yet, so his older brothers take turns helping with this)
– Get little brother dressed in morning. My oldest who is 11 does this. My 9 year old still has trouble getting Reed to "do" what he wants haha.
– Clean School Room
– Tidy up Living Room
Chores my 5 year old can do
– Empty Dishwasher (he sometimes needs help if there are heavier items but he does pretty good already)
– Put clothes away once folded
– Take out trash and recyclables
– Pick up bedroom
– Make Bed
– Check Mail
– Tidy up Living Room
– Tidy up Toy Room
That is pretty much it. My older two boys take on a lot more than Owen who is 5… but in time Owen will learn to do some of those chores as well. We alternate days on a lot of these. Helps keep the peace. :) Having a "day by day" chore list has absolutely helped too. Before having it all on paper, the boys would argue. Saying things like "I did it yesterday!" "Its his turn." "Why do I always have to do it." Etc. etc…. now that its on paper, theres no question as to whos turn it is… So much better!
Hope this helps.
Disclosure: The above post does contain affiliate links to amazon. This is not a sponsored post.