With fall officially visible now here in SC. While temps may still rise to as high as 90F where we are. We are experiencing temps in the 50's and leaves beginning to change color. So officially, now that our lawn is covered is lovely leaves, it feels like fall. Despite the rising temps on occasion.
Something that comes with the changing leaves, are colds. We've already been hit by one this season and thankfully it was short lived.
I get asked on occasion how we stay well during cold seasons. We are not totally immune from sickness (no one is) and sickness is just a part of life… but we do have ways we try to prevent it and so far what we do works fairly well. We rarely have to get antibiotics in the family… if we do, its typically for a deep infection usually for myself (always sinus related), but thats about it. Thankful for that, because I cant stand having to make doctor visits (even tho we have a great one).
So here are a short list on ways we stay well.
1. Essential Oils – You will see MANY moms write about oils. They aren't new. They are not a fad. They have been around much longer than most think. Although their popularity has spiked in the recent decade because of the MLM companies taking social media by storm :) – I have a friend who sells Young Living HERE & another friend who sells DoTerra HERE. I am not against either of those companies and if you chose to shop with them, I have no doubt you're getting amazing oils. For me though. I have been using Rocky Mountain Oils for 4 years now and LOVE THEM. I have seen first hand their oils work in my family and love them. I write lots of post about my oil usage OVER HERE. I post recipes there, informational post and so forth. Feel free to poke around there to learn more.
To those who may have seen recently on RMO the release of 6 new certified organic oils. I thought Id take the time to explain a little bit what that means. What is the difference between organic and non-organic oils? Certificated Organic or USDA Organic is a good indicator of quality in farming practices. However, they have found that in both certified organic and non organic oils, they can contain trace amounts of pesticides. RMO prides themselves in having the highest of standards and went through the effort and expense to have each of their oils tested for pesticides by a third party lab. So in short, great quality oils for a great price. [source]
Whoever you shop with, do your home work. Do not buy your oils from walmart. Do not use oils with synthetics. If the oil is to cheap, it is probably to good to be true. Always read up on what oils are safe for children and don't forget to dilute them down before use. :) Feel free to message me on Instagram or facebook with any questions. I'm an open book and help run the RMO Community on Facebook where you can ask lots of questions and share recipes/tips openly with the community there.
2. Try to eat real foods. TRY being the key word for us right now haha. The older my kids get, honestly the harder this seems. Especially now that they are in a school besides home. Packing lunches is tricky for me and more often than not my kids aren't getting whole food nutrition in their lunches. WHOLE FOOD NUTRITION IS PROVEN to build up our immune systems and Fruits & Veggies are without a doubt one of the best ways to fight of diseases. So for us, we use Juice Plus to help us during our less than perfect "food packing" days :) – and I'm thankful for it. I am a distributor for Juice Plus now but don't push sales. If you are interested in learning more you can contact me at fromdrea[at]gmail.com.

I post more on Juice Plus over on my @NaturallyDrea Instagram as well
I've written more on Juice Plus HERE. Its a longer post where I share how its helped me with a decade long digestive health problem I personally have dealt with.
3. Sanitize those hands. This is a no brainer to me. I'm all for good bacteria and a little dirt and play for the kids. Kids get dirty and messy outside. Its normal & not bad. However, if my child has been on a play ground… or at the church nursery. In school. You better believe I will sanitize their germ filled hands asap. You can use normal hand sanitizer wipes or gel… or you can make a sanitizer spray using Essential Oils.
Or, just use good ol' fashion Soap :)
4. Immune Boosting Extras. I adore our Juice Plus and believe thats almost all you need for additional nutrients. However, for an extra boost I have been taking Defense by Rocky Mountain Oils.
They have an entire new line called Tohi. LOVE IT. They also just released a new body care line. So excited about that. One of the 1st things on my list of things to buy is their new sports cream. I have back issues and love creams like that. I am slightly obsessed with Boost too, for my 3pm energy slump.
Another Natural Boost we take is Water Kefir. SUPER easy to make. PACKED FULL OF good gut probiotics. I have found store bought probiotics in a powder or pill form gets SO expensive for our family of 6… so Water Kefir for us is just a more frugal option. My younger 3 especially love it. Its like a grape soda. Here is my post on how we make ours. Also heres a short video showing how explosive my water kefir can get if we forget to burp it ;)
You can find Water Kefir grains on etsy btw. I mention this in the post I linked to above. My recent grains I got from THIS COMPANY. They have taken off very well. Typically when you buy grains online, the 1st few batches of your kefir is weak. The grains take a hit during the travel time. So I typically DUMP the water kefir the grains make the 1st 2-3 batches. Then by batch 4, the water kefir grains really take off and begin to thrive.
You can sometimes find local sources for grains on Holistic groups on facebook in your area.
4. Stay active & soak up the sun. Keeping active outdoors IMO helps ward off the germie bugs. Our bodies need physical activity. They also need sunlight. So take a walk. Play outside with the kids. Go on a hike. Ride bikes. Try your best to get outside for at least 15-25 minutes a day, no matter what. Unless its a blizzard and or monsoon. :) For those times there is obviously an excuse. On the days you can't go outside, open up all the curtains. Let in that natural light. You'd be amazing how healing the sun can be.
ONE of my FAVORITE DIFFUSERS btw… stepping back to oils again here. Is this one from Walmart. ITS HUGE!!! and will literally diffuse all day. You don't NEED to sit beside a diffuser all day to reap the benefits though. In fact you really only need to breath in diffused oils for 20 min. or so for them to benefit you. But I love diffusing oils all day. I love how it makes my home smell. So this one was an absolutely favorite of mine and its well priced. Also its glass, so super pretty and heavy.
I also have this tiny one in our bedroom. It is great as well. Love both.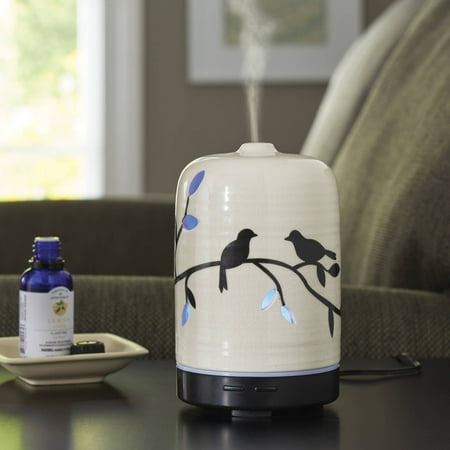 I think that is it… hopefully some found this list helpful.
I hope everyone stays well this fall/winter season!


Disclaimer: The above post contains affiliate links for walmart & rmo. I was not paid to write this post.